About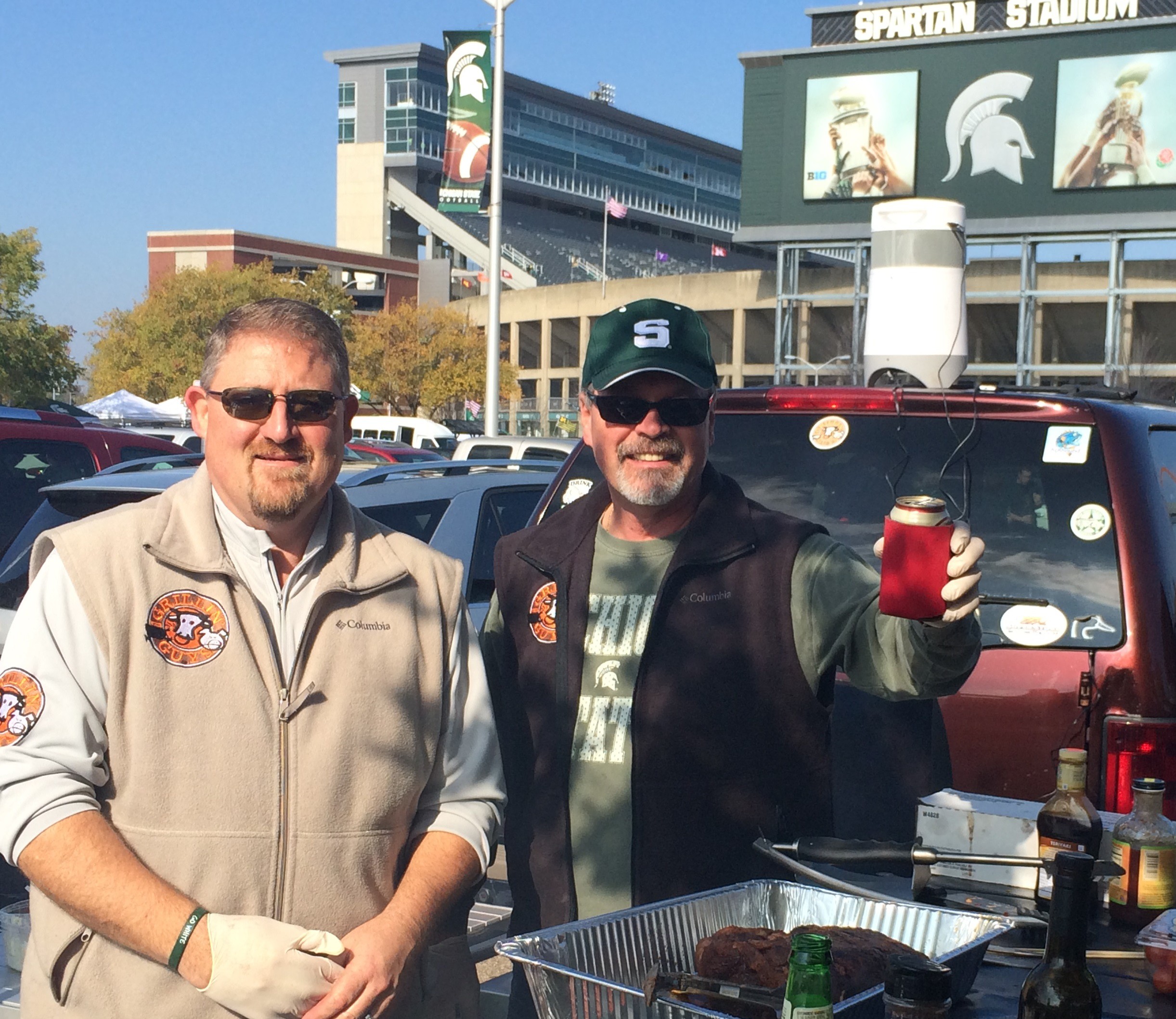 Who are the Grillin' Guys?
---
Randy Joppie is a co-host of the show and works on special events and marketing.  Randy goes by JOP on the show.
Professionally Jop owns a Home building and remodeling company called Timberland Building, Inc.  He also has Homelife Kitchen + Bath + Outdoor Living Showroom and Design Center in Ada, MI which specializes in creating Grillin Guys Approved signature outdoor kitchen and entertainment spaces for your home and cottage.
Jop grew up in Chartucky (Charlotte, MI) and attended to Ferris State University from 1982-86 where he studied finance and accounting.  He was a proud member of Pi Kappa Alpha Fraternity (Pikes) where he found his love for grilling and smoking(meat).  He lives on a lake in Grattan with his bird dog Gibby.
Jop is an avid sportsman as well as the official drink critic of the show and a seasoned griller.
Jop has been heard on WOOD Radio and has been an integral part of Gilda's Club and the Laugh Fest for years.
---
Bob Nurmikko is the Grillin' Savant of the show and goes by the name Barbecue Bob.  Bob has been grilling for over 30 years and has picked up cooking methods from travels around the world and of course his mother Adeline.
Bob lives in Lowell with his lovely wife and 5 kids.  They are growing grapes and hops as well as hanging out in their awesome property enjoying a pool, Arctic Spa, beach volleyball court, and acres of wildlife.  The Nurmikko family loves  to hunt, fish & Camp.
Bob met his wife at Ferris State University after serving in the United States Air Force.  Bob also served in the Army National Guard while at Ferris.
Bob is the U.S. Sales Manager for Arctic Spas of Alberta, Canada.  Arctic Spas is the most prestigious brand of hot tubs in the world.  Arctic also makes the famous "Grill House" which is a mancave made of Finnish Cedar with a firepit/grill in the middle.  Bob has been in the Hot Tub and Grill industry for twenty years with a history in the retail and wholesale markets.  Arctic Spas is the "Official Hot Tub" of The Grillin' Guys.
Bob has been heard on national shows such as Sean Hannity, The David Webb Show on Sirius XM  125, Brian Kilmeade, Real Estate Today, Frontlines of Freedom, The David Webb Show , and local tv.
---
Greg Moceri is a radio consultant who spent 20 years broadcasting in the Grand Rapids market.  Greg now helps broadcasters around the country position themselves for their market.  Greg is the idea guy behind the show and came up with the format several years ago while talking with Bob at his store.
Greg loves to use his Good One Smoker on his deck in the Cascade area where he lives with his beautiful wife and 2 children.
"Greg is one the smartest and most strategic thinkers in the media business. He has an uncanny ability to cut through the maze of noise and opinion to uncover the heartbeat of an issue and then uses his incredible passion to activate others to action. He has become a trusted member of my small circle of people I can count on to tell it like it is." Sean Hannity, Fox News/Syndicated Talk Host